« Sims Serial Numbers | Main | Why is Movie Popcorn So Expensive? »
July 11, 2006
I Spy: Audi Q7
Seen the other day... the new Audi Q7.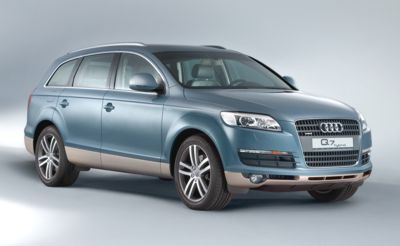 This thing looks even more ugly in person. It looks like an Audi with a pituitary gland problem. Plus, isn't this just a fancy VW Touareg?
Also, was there some sort of fire sale on F430s? I see more of these than Mitsubishi Eclipses. A LOT more.

Posted by March at July 11, 2006 02:20 AM
Comments
can you post some pics of the jeep patriot? i'm prolly gonna have to get me one of those when they come out...
Posted by: armyrn13

at July 23, 2006 06:02 PM
Post a comment
Thanks for signing in, . Now you can comment. (sign out)
(If you haven't left a comment here before, you may need to be approved by the site owner before your comment will appear. Until then, it won't appear on the entry. Thanks for waiting.)